With Fulham v Tottenham Hotspur drawing Gameweek 21 to a close, the Fantasy Premier League (FPL) will take a brief pause for almost a fortnight (two weeks).
What is your mood after Gameweek 21? 😃😩 pic.twitter.com/LZAlwwSSHo

— Fantasy Premier League (@OfficialFPL) January 24, 2023
By the time the Gameweek 22 deadline comes around on Friday 3 February, we'll know a lot more about the Blank/Double Gameweek picture. This is because results of upcoming FA Cup and Carabao Cup ties will have a big say on how the Premier League fixtures will fall around them.
The first situation to be resolved will involve a "potential" Double Gameweek 22 involving Manchester United and Leeds.
If both sides avoid the need for an FA Cup fourth-round replay, there will be a Double Gameweek in GW22. And given that they face Reading and Accrington Stanley/Boreham Wood in their upcoming FA Cup ties respectively, there's a decent chance of that happening.
Meanwhile, there's also a possibility of the much-dreaded Blank Gameweek in the coming weeks.
Manchester United, Newcastle United, Southampton, Nottingham Forest, Brentford, Brighton and Hove Albion, Leeds United, West Ham United could all have their scheduled Gameweek 25 fixtures postponed depending on the results of the EFL Cup semi-finals.
Newcastle United and Manchester United are the bookies' favourites to progress to the EFL Cup final, which happens to fall on the same weekend as Gameweek 25.
Another Blank Gameweek?
More will also be known about Blank Gameweek 28 – which clashes with the FA Cup quarter-finals – after FA Cup fourth-round weekend. However, that will still be far from the full picture.
We'll only know the full extent of Blank Gameweek 28 after Gameweek 25, when the FA Cup fifth round has taken place.
Nevertheless, we could get one or two Premier League fixtures soon confirmed as going ahead.
For example, if Arsenal are dumped out of the FA Cup by Manchester City at the Etihad this Friday, their Gameweek 28 clash with Crystal Palace will proceed as planned (the Eagles are already out of the cup):
| | | |
| --- | --- | --- |
| GW28 PL fixture | Status | A blank will happen if the following happens: |
| Arsenal v Crystal Palace | Possible blank | If Arsenal reach the FA Cup quarter-finals |
| Aston Villa v Bournemouth | On | |
| Brentford v Leicester | Possible blank | If Leicester reach the FA Cup quarter-finals |
| Brighton v Man Utd | Possible blank | If Brighton and/or Man Utd reach the FA Cup quarter-finals |
| Chelsea v Everton | On | |
| Liverpool v Fulham | Possible blank | If Liverpool and/or Fulham reach the FA Cup quarter-finals |
| Man City v West Ham | Possible blank | If Man City and/or West Ham reach the FA Cup quarter-finals |
| Nottm Forest v Newcastle | On | |
| Southampton v Spurs | Possible blank | If Southampton and/or Spurs reach the FA Cup quarter-finals |
| Wolves v Leeds | Possible blank | If Leeds reach the FA Cup quarter-finals |
There's so much to pay attention to as we head into the crunch period of the FPL season!
iSoccer January Mini-League Recap
With three Gameweeks, albeit long, unusual ones, the iSoccer January mini-league comes to an end.
The winners in the January mini-league are:
1.    Muhammed Lawal Salihu (Double D)*
2.   Abubakar Oladipupo (Meetoladipupo)
3.   Olatunji Victor (Hush FC)
Congratulations! Please send in your comments (your team names) under this post, or send a mail to damilaresoccer@gmail.com. 
We will reach out to you for your tasks, after which payments shall be made directly to your bank accounts.
Please Note: Every task must be completed before payment will be made. Also, no "consecutive" winners are allowed.
Related Stories: FPL Gameweek 21 Recap: PL Actions, GW 20 And GW21 Winners
The iSoccer February Mini-League
The deadline for the first gameweek in the February mini-league is slated for Friday, 3 Feb 19:30WAT. In all, there will be four Gameweeks in the February mini-league, with lots of twists and turns, as earlier stated.
Ensure to keep your eye on upcoming Double and Blank gameweeks.
Each player is entitled to only ONE team. All payments will be withheld from players using two teams and transferred to the next player on the rankings.
Managers should also comment their team names under this post immediately after joining with the links. This facilitates easy access to everyone who wins, or whenever there is a need to reach out to another manager (in the case of a transferred winning).
All players are also advised to follow the social media handles and to check the iSoccer website frequently.
You can join the league through the link or through the code: 87xkuu.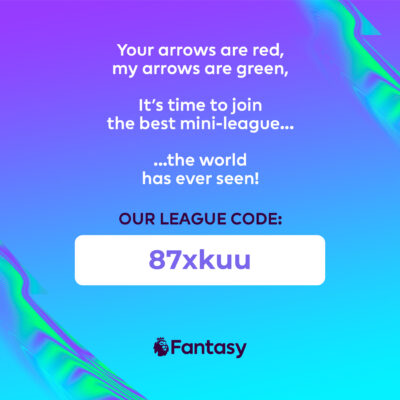 Goodluck to all managers in the iSoccer February mini-league! Remember to comment your team names under this post.
Twitter: @isoccernigeria and @CompleteSports
Facebook Page: @isoccernigeria
Instagram: @completesportsnigeria
Related